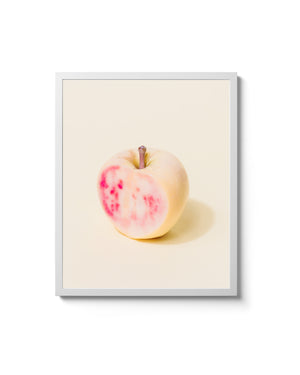 Pink Pearl
The Pink Pearl was developed by Albert Etter in Northern California, back in 1944. Etter was fairly taken with the idea of bringing a pigmented flesh apple to the masses, creating apparently 30 pink-fleshed apple varieties that he had raised from seed of an apple called Surprise. Pink Pearl is as close as he got; it remains the only cultivar available to the public. It's lovely, tart thing, with strong grapefruit and sour watermelon candy flavors.
Each photo is signed by William Mullan and printed by Brooklyn Archival on Epsom Hotpress Bright, a truly magnificent paper made of 100% cotton, with a heavy grammage of 330gsm.
Please allow two weeks lead time for shipping. We appreciate your patience.
Paper:  Epsom Hotpress Bright 330gsm
Printing: Fine Art Inkjet by Brooklyn Archival
Frame not included.