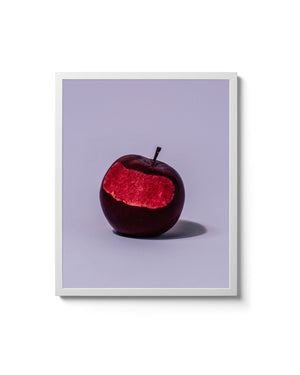 Niedzwetzkyana Apple
Niedzwetzkyana Apple, sourced from The Scott Farm in Vermont. Native to the Tian Shan Mountain regions of Kazakhstan and Kyrgystan. Considered the "mother" of most pink and red fleshed cultivars, there is some debate over whether Niedz is its own species of Malus, or a unique variety of Malus pumila (common apple, also referred to as Domestica). It is likely that the name has been used broadly across the region stretching from China to Afghanistan, where this apple (or apples with matching characteristics) has been found, creating several different identifications.
Each photo is signed by William Mullan and printed by Brooklyn Archival on Epsom Hotpress Bright, a truly magnificent paper made of 100% cotton, with a heavy grammage of 330gsm.
Please allow two weeks lead time for shipping. We appreciate your patience.
Paper:  Epsom Hotpress Bright 330gsm
Printing: Fine Art Inkjet by Brooklyn Archival
Frame not included.